Featuring: ChromaLuxe Fine Art Printing, D&AD Judging Week, Mark Esper – The Making of 'Liquid Gold', 2014 Photography Bursary Award Winner Jonathan Stallard & more…
---
ChromaLuxe Fine Art Printing – New Video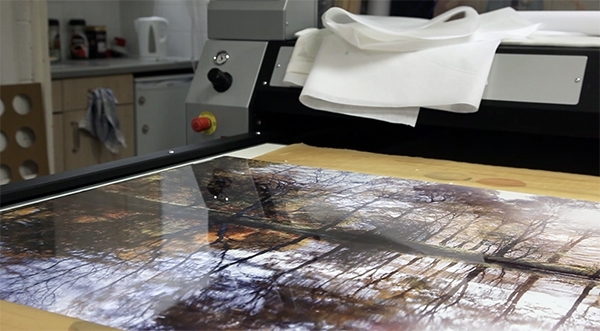 We recently filmed the production of David Anthony Hall's pieces (Lakeside' – printed as a ChromaLuxe Fine Art print with a high-gloss finish) and showing the entire process from beginning to end. Watch here… (1min, 45 secs)
ChromaLuxe Fine Art Printing, our new service addition for 2014, uses a process called dye sublimation' to produce images or artwork on to slimline aluminium with either a high gloss or matte finish. These 1.2mm thin metal prints have an intense depth that is comparable to that of traditional Cibachrome prints, and in addition, ChromaLuxe prints are also archival, waterproof, fire-resistant, chemical-resistant, abrasion-resistant and exclusive in London to Genesis Imaging. Find out more about ChromaLuxe Fine Art Printing…
---
Genesis Partner with Getty for The Next Photographer Award at D&AD Judging Week.

Genesis are delighted to be a Print Partner of the Next Photographer Award 2015, which was created by D&AD in partnership with Getty Images to find the best new photographers and promote them to the creative industry.
This year, The Next Photographer Award has been judged by some of the industry's highest profile names – including photographers Oliviero Toscani and Miles Aldridge, Jefferson Hack of Dazed Magazine, Sarah Thomson of Fallon and Andy Saunders of Getty Images. Read more…
---
Mark Esper – The Production of 'Liquid Gold'
Photographer Mark Esper visited us at Genesis Imaging late last year to print his bold series Liquid Gold' on Gold Dibond using our
Direct to Media UV printing
service. In this fascinating video, he shows the production of his work from beginning to end and gives new insight into his work. 
Watch here… 
(3 min, 37 secs)
---
Jonathan Stallard, Winner of the 2014 Photography Bursary Award on the Development of his Practice and his New Exhibition.
Jonathan Stallard's images attracted our attention last year during the photography degree shows at Nottingham Trent University, gaining him the Photography Bursary Award; comprised of extended support from tutors at Nottingham Trent University, a bursary of £1000 of our production services plus mentoring and assistance to produce an exhibition, one year later, at Djanogly Gallery, Lakeside Arts Centre in Nottingham.
Read Jonathan's thoughts on his first year out of university, the development of his practice, and the production of his exhibition…
---