Natasha Caruana is a British photographic artist and senior lecturer at University for the Creative Arts (UCA), Farnham. Caruana's art practice is grounded in research concerned with narratives of love, betrayal and fantasy.

At this year's Les Rencontres d'Arles festival, Natasha was named the 2014 BMW Young Photographer in Residence at the Nicéphore Niépce Museum – a museum dedicated to Joseph Nicéphore Niépce – credited as the inventor of photography. The residency has allowed Natasha full creative freedom to develop her work, and included a €6000 grant to fund her residency, payment of her accommodation and the opportunity to exhibit her work at next year's Rencontres d'Arles festival and this year's Paris Photo Fair.
We spoke to Natasha live on Twitter, ahead of the opening of this year's Paris Photo where she is presenting work produced during her three-month residency at the Nicéphore Niépce Museum…
Genesisimaging: Hi Natasha! Are you ready to talk with us about your #photography, #BMW residency & more?
NatashaCaruana: Bonjour! Yes, I'm ready!
Genesisimaging: Great! Let's start by talking about the 2014 BMW residency at the Nicéphore Niépce Museum…
Genesisimaging: When you found out you had been awarded the residency, what were your initial thoughts and feelings?
NatashaCaruana: Definitely excitement!
NatashaCaruana: I was excited to have 3 months of uninterrupted time to dedicate to my work.
NatashaCaruana: Also hit with the reality of how I'd cope with the heartache of leaving my husband – just three days after we got married!
Genesisimaging: And did you have any ideas on what you hoped to achieve during the three months?
NatashaCaruana: I actually wrote a proposal back in January. The project idea hadn't changed too much between then and when I started in September.
Genesisimaging: Can you tell us what you have you been working on?
NatashaCaruana: I'm exploring love at a first sight. I love the challenge of trying to photograph something which is impossible to photograph.
NatashaCaruana: The project searches for the truth of love at first sight. I've been drawing from people's experiences.
NatashaCaruana: It started from wanting to understand and unravel an experience I had in my life.
Genesisimaging: Sounds fascinating. Can you give us any insight into what you'll be showing at Paris Photo this week?
NatashaCaruana: I'm presenting work-in-progress – It's meant to be a bit of a teaser ahead of my show in Arles…
NatashaCaruana: The work will be in the Grand Palais in the BMW collection. The musée are installing it right now!
NatashaCaruana: Here is a sneak peek!!! Not sure if I'm allowed to show you this!?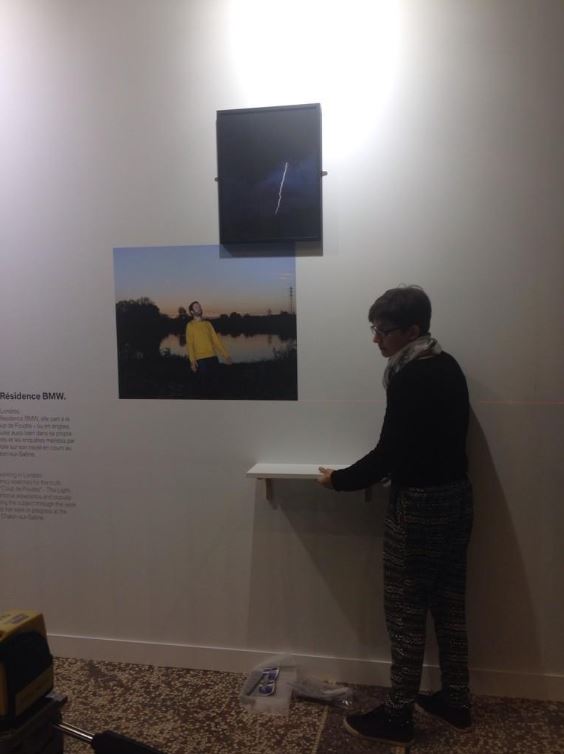 Genesisimaging: We can't wait to see it! Have you got any ideas on how you will present your work in Arles? (if you can tell us!)
NatashaCaruana: Yes, exciting! I've kept a weekly log of my journey to Paris on my Facebook page #morebehindthescenes
NatashaCaruana: I'm not sure that I'm that far ahead yet, I'll see how the test run at Paris photo goes! I'm interested in hearing feedback!
Genesisimaging: Let's talk about your work more broadly…
Genesisimaging: How do you approach a project – where do you begin?
NatashaCaruana: I begin every project not knowing it's a project or that it will even become a project…
NatashaCaruana: I'll notice myself wrestling with an idea – this could be from something in my life , something read or overheard.
NatashaCaruana: There is more often than not an autobiographical element in all my narratives.
Genesisimaging: Some of your work tackles some difficult subjects (e.g. The Married Man)…
Genesisimaging: Have there been any images or series' that have been particularly difficult to produce?
NatashaCaruana: *thinking*
NatashaCaruana: Yes! I'm sure there have been. I can't think of anything specific – maybe I'm in a too positive mind set at the moment.
NatashaCaruana: Married man was exhausting, physically, in terms of dating three men a day.
NatashaCaruana: I think each project has their own difficulties… Be it in production, technical or editing.
NatashaCaruana: This French project also has its own problems because I'm relying so heavily on the weather.
NatashaCaruana: I need clear skies, which are hard to come by next to the misty Soane River!
Genesisimaging: You wouldn't have much luck here in England at the moment either… Very grey.
Genesisimaging: Tell us, how did you get into photography?
NatashaCaruana: I got into photography just as I was leaving school. My grandfather left me his Pentax K1000…
NatashaCaruana: I started playing with it over the summer. By September I was deferring my place to do business at university and researched art foundations.
NatashaCaruana: Then, as they say, I never looked back.
Genesisimaging: Brilliant. What would you day has been the biggest single change in your practice over your career so far?
NatashaCaruana: Three years ago I took up a full-time teaching post at University of the Creative Arts, Farnham.
NatashaCaruana: I love working so closely with the students but it's hard to juggle time for my work – particularly with four hour daily commute.
NatashaCaruana: I now get through the year with one eye on the summer holiday! I actually have a countdown in my studio.
NatashaCaruana: But teaching does mean I'm part of a great team and that I'm surrounded by ideas all day.
Genesisimaging: We can imagine it must be difficult, but rewarding. What do you enjoy most about teaching?
NatashaCaruana: Being around ideas all day. The library – Farnham has a fantastic photobook collection, and having equipment on hand to use!
Genesisimaging: Sounds great! Let's get back to your work…
Genesisimaging: The question of how today's technology is impacting on relationships is significant in your work, but what impact has technology had on your work?
NatashaCaruana: Nice question….
NatashaCaruana: Technology has meant I can communicate with people that would otherwise be out of reach.
NatashaCaruana: It has also meant the work can be shared and discussed across the globe.
NatashaCaruana: I love that my work can divide opinion and make people reconsider narratives of love, betrayal and fantasy.
NatashaCaruana: Technology entails the internet – which is great source of research and inspiration for me.
Genesisimaging: And along the technology theme…
Genesisimaging: We understand your series 'The Detective' was shot in multiple formats – do you have a preferred format to work in?
NatashaCaruana: No preferred – different formats have given me greater creative freedom.
NatashaCaruana: As a result my exploration and final outcomes are not confined.
NatashaCaruana: It also keeps each project interesting for me and means I'm always learning or refreshing a new format.
Genesisimaging: Good answer! Final question, If you had to sum up your practice in one single image of yours – what would it be?
NatashaCaruana: Difficult question…
Genesisimaging: Sorry to end on a hard one!
NatashaCaruana: Maybe the image of the red purse which was a single tableau image shoot after my last married man date. You guys actually printed it.
NatashaCaruana: I love that image. I find it a real monument to my hard work.
NatashaCaruana: In the exhibition the image portrays something seductive, strong and passionate.
Genesisimaging: Interesting answer! Unfortunately we're all out of Qs and time… Thank you so much for taking the time to talk to us this afternoon
NatashaCaruana: Thanks for the questions!
NatashaCaruana: And thanks UK photography community, My super assistant Sarah Howe, Labrynth, Anna Fox, Andrew Bruce and my muse, Simon Sweetman.
NatashaCaruana: Overwhelmed with the thank-you's, I hope the final work will live up to everyone's expectations! #alittlenervousforparis
Work from Natasha's residency was shown at Paris Photo 2014 between 13th – 16th November and will be shown in its entirety at Les Rencontres d'Arles festival, Arles, France in 2015.
Work in progress at Paris Photo 2014 (installation view) courtesy of Natasha Caruana.
Find out more about Natasha's work and practice at natashacaruana.com