See some of the great exhibitions and events held by our diverse range of clients.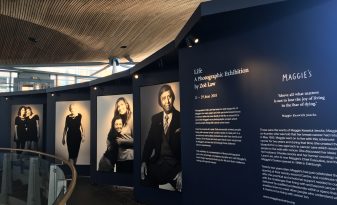 Zoë Law and Maggie's: 'LIFE' Exhibition at The Senedd, Cardiff Bay
Date: 22 June 2018 - 29 June 2018
Location: The Senedd, Cardiff Bay, CF99 1NA
The LIFE exhibition, curated by Ab Rogers Design (the architect of Maggie's at the Royal Marsden in Sutton), is a presentation of photographs of people living with cancer who visit Maggie's. Each image represents their joy for life and their resilience during and beyond cancer. There are 21 photographs in total which were originally taken to mark Maggie's 21st birthday in 2017. The exhibition launched at Christie's in London the same year and the exhibition is now on tour to raise awareness of Maggie's and the support needed for people with cancer and their friends and family, through a moving and enlightening collection of images.