What a year this has been. As 2019 drew to a close with so much promise, we don't need to tell you that 2020 has been one fraught with challenges – personal and professional.
It is customary that we close the year by looking at our highlights; the exhibitions and events we've supported, the clients we've worked with (and their exhibitions). Although 2020 has been dominated by the impact of *you know what* we must celebrate some of the events which have reminded us of the kindness of humanity and the joy that clients bring us. We can only hope that 2021 brings some normality, but in the meantime, let's revel in the following (in no particular order)…
---
Our Clients (and their dogs)
Our clients have been overwhelmingly supportive to the team during these strange times – and we can't thank you enough. We are extremely grateful for each and every one of you, today, this year, and always. Thank you!
---
Our Team
Back in September we were thrilled to be featured in the first issue of David Yarrow's publication, "In Focus" – an international journal with photography and film as its genesis, and collaboration and philanthropy as its backbone.
The first volume featured articles on; American icon Cindy Crawford, actor Chris Hemsworth, Game of Thrones star Nathalie Emmanuel, golfing legend Gary Player and fine art photographer Harry Benson. And us, of course (masks 'n' 'all). The article featured our support for two of David Yarrow's 2020 fundraisers (in spite of everything 2020 threw at us); #KoalaComeback and #OurPride – more below.
---
David Yarrow 'Koala Comeback' Campaign for Australia's Wildlife
Back in January, photographer David Yarrow was in Australia documenting the devastating bush fires that had destroyed communities, wildlife and wildlands.
Using the striking and poignant images that he captured of the effects of the fire, Yarrow and environmental nonprofit organisation WildArk launched the #KoalaComeback Campaign to raise $2 million to support recovery efforts in Australia – and we were beyond proud to help, by providing prints free of charge to be sold for the cause. Read more..
---
#ArtForHeroes: David Yarrow 'Our Pride' Campaign for the NHS
In April 2020, David Yarrow released an exclusive image to support 'Art For Heroes', the virtual art exhibition set up by Maddox Gallery. The image 'Our Pride', symbolises the strength, bravery and courage of our NHS and was available to buy from 'Art For Heroes' virtual exhibition on www.artforheroes.co.uk.
All proceeds were donated to HEROES, which was founded by NHS Doctors and nurses on the frontline fighting the COVID-19 pandemic.
On our involvement with David Yarrow's Our Pride campaign, after Koala Comeback, Genesis CEO Ken Sethi comments:
When the time came again, with the Our Pride campaign, I knew that Genesis Imaging had to be a part of it to show thanks for the incredible work that NHS staff have done during the international pandemic. Their efforts have been invaluable. As a cause that is closer to home, it's easier to see the outcome, but both of the fundraising efforts have been important – and I'm proud to have supported both campaigns."

Ken Sethi, CEO, Genesis Imaging
Maddox Gallery has raised over £1m for HEROES charity with #ArtforHeroes campaign. A huge feat!
---
Genesis Support Prints for Music Fundraiser
Genesis are delighted to support 'Prints For Music' – an online platform selling iconic prints of artists by professional photographers with all the money raised being donated to Stagehand's Covid-19 Crew Relief Fund. The fundraiser runs until 21st December, giving you plenty of time to get involved!
To help raise funds, over 100 iconic prints of world renowned music artists taken by globally celebrated photographers including Rankin, Tony McGee and Jill Furmanovsky are going on sale. The sale represents a once-in-a-lifetime opportunity to own a piece of music history, with many of the prints usually unavailable to buy. 100% of proceeds go to Stagehand. Read more…
---
Tate Britain Winter Commission 2020: Chila Kumari Singh Burman – Remembering a Brave New World
Pictured is Chila Kumari Singh Burman's transformation of the front of Tate Britain into a celebration of neon light and swirling colour – in all its neon glory – which we are so proud to have worked on!
This magnificent installation, remembering a brave new world, combines Hindu mythology, Bollywood imagery, colonial history and personal memories. Inspired by the artist's childhood visits to the Blackpool illuminations and her family's ice-cream van, Burman covers the façade of Tate Britain with vinyl, bling and neon.
The installation was revealed on the 14th November and runs through to the end of February 2021. We were thrilled to work with client and friend, Chila, on large scale banner wraps, vinyls and direct to media prints for the transformation – plus installation too! While Tate Britain is currently closed, the commission is still visible on the exterior of the building. See behind the scenes…
---
Genesis Postgraduate Award 2020
Back in July we published our long-awaited winners and commended entries for this year's Postgraduate Genesis Award and said congratulations to Nick Goring, winner, and Roei Greenburg and Phillipa Klaiber who were commended for their works.
Nick was awarded exhibition production up to the value of £2,000, alongside 12 months mentoring and support. Roei and Philipa each receive 30% discount on our services.
Congrats all, thanks to those who entered our free prize, and a big thanks to our judges; Laura Noble, Michael Birt, Averil Curci, Ignacio Barrios and our very own Mark Foxwell. Read more…
---
Genesis support the 14th Edition of Photo50 at London Art Fair 2020
Laura Noble was appointed as the curator for the 2020 edition of London Art Fair's annual Photo50 exhibition, titled Occupy the Void, which we were thrilled to work with Laura and her artists on.
The exhibition explored the vast pool of talented living female photographers aged over 50 and the cultural space' they inhabit. The physical, psychological and ephemeral nature of our use of space and our perception of existing within it was explored by a group of contemporary photographers and artists working in the UK and internationally – and let us tell you, it was a fantastic exhibition. Read more…
---
Travel Photographer of the Year Exhibition at Coal Drops Yard
Earlier in the year, Travel Photographer of the Year showcased the winners of the 2019 TPOTY awards at Coal Drops Yard, printed using our Direct to Media UV Printing service. Open in all weather, the exhibition ran from 29th September – 1st November 2020. See the winners…
---
Elizabeth Lee (daughter of our FD Howard, Wins RSPCA Young Photographer of the Year
We could not be more delighted that Elizabeth Lee, daughter of our Finance Director Howard, won the RSPCA Instagram photo competition with this beautiful photo of her dog Lucky in a field of heather – and was featured on the front page of The Times, and in The Telegraph for doing so! At only 13, Elizabeth's eye for composition helped her win against fierce competition from over 1,000 other entries.
Elizabeth was inspired to take up photography after visiting David Yarrow Photography show at Maddox Gallery", Howard comments, " I think she took on his advice on stay close to the subject and just below the eye level!"
---
Our New Website!
If you're reading this then you have probably noticed something has changed around here… That's right, after consulting our clients and friends, we invested in improving the navigation and usability of the website (and showcasing the big, beautiful work our clients produce with us). A big thanks to Wholegrain Digital for working with us on this!
Have a look around and tell us what you think!
---
Festive Opening Hours 2020-21 and Christmas Wishes from the Team at Genesis Imaging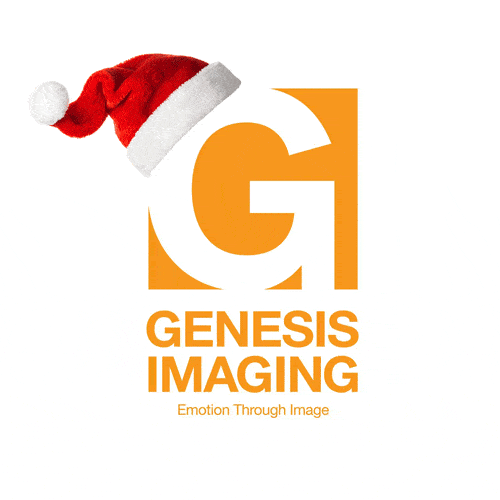 We will be taking a short break for the festive season, closing for Christmas on Thursday 24th December at 2pm and re-opening on Monday 4th January 2020 at 10am.
Emails sent, files uploaded and orders placed during this time will be responded to as soon as possible on our return in January. Please note that turnaround times for enquiries submitted during this time should be calculated from the 4th of January, not the date in which they are submitted.
Wishing all of our clients, followers and friends a Merry Christmas and a happy and healthy 2021…
Thank you for all of your support in 2020.
With best wishes,
The team at Genesis Imaging
---
More from the blog
For many years, we have supported final year photography BA students at Nottingham Trent University with three bursary awards; two…
Did you know you can travel the world from Kings Cross? (and we don't mean just on the Eurostar)… Until…
The Genesis Postgraduate Bursary Award – Winner: Nicholas Holt London College of Communication, MA Photojournalism & Documentary Photography (online) Of…