It has become customary that we close the year by looking at our highlights; the exhibitions and events we've supported, the clients we've worked with (and their exhibitions). Although most of 2021 has been dominated by the impact of *you know what* we must celebrate some of the events which have reminded us of the kindness of humanity and the joy that clients bring us. We can only hope that 2022 brings some normality, but in the meantime, we celebrate the following (in no particular order)…
---
Our clients
Ok, so you're always our number one – but it feels especially important to highlight this due to the unwavering support we have received through the difficulties of the last few years.
We are extremely grateful for each and every one of you, today, this year, and always. Thank you!
---
David Yarrow Changing Lanes at Maddox Gallery
We are proud to have recently worked on 'Changing Lanes', which takes the signature storytelling of David Yarrow to a new level with an array of icons, including Cindy Crawford, Cara Delevingne, Ciara and Russell Wilson. Now showing at Maddox Gallery, Westbourne Grove – until Jan 5, 2022.
---
Extending Support to Students and Recent Graduates
---
Photo London 2021
This September, Photo London Fair returned to Somerset House and once again brought together leading photography galleries and publishers from 15 countries, alongside an innovative public programme of exhibitions, talks and workshops. We thoroughly enjoyed working with a wide range of galleries and exhibited artists. Click below to see a selection of those we had the pleasure of working with this year – and the fascinating work that they do.
---
David Cannon: Seve – His Life Through the Lens, exhibition at The R&A World Golf Museum in St Andrews
Award-winning photographer David Cannon brings to life the magic of one of golf's most iconic heroes, Seve Ballesteros with a retrospective of his life through imagery in this new exhibition, which opened in October 2021 and runs right through to December 2022 – so plenty of time left to see it!
We were proud to work with David on the opening exhibition at The Golf Museum in St Andrews which pays homage to the great sportsman with memorable photographs from the recently published book, 'Seve, His Life Through the Lens'. Key items from their collections sit alongside the wonderful photographs and serve to celebrate the life and achievements of this much-loved character.
---
NFT Printing
In response to the demand for NFT printing, we have set up a new page that includes info on all things NFT (it took a bit of getting our heads around). We've been really proud to work with a range of artists to help print their NFT artworks – and we can't wait to work with more.
---
Supporting the Ashurst Emerging Artists Prize 2021
We were thrilled to once again support the Ashurst Emerging Artists Prize Photography award, with a £1500 production award and mentorship for the winner. Earlier this year the winners for this year's awards were selected from a shortlist of entrants. All winners of the Ashurst Emerging Artists Prize are currently showcased in solo shows at Ashurst's London headquarters and Rich Mix London until the 7th of January 2022. So, still time to see!
---
NTU Bursary Award Winner Jack Pickerill Solo Show: In Passing
---
David Yarrow in Tusk Trail 2021
We were proud to have sponsored and assisted in the production of David Yarrow's Tusk Trail lions, which were featured alongside 46 other life-sized lion sculptures, designed and made by some of the planet's foremost artists, musicians and sportspeople. The lions roamed streets around the world to highlight the threats currently faced by 'the King of Beasts', and were later auctioned to raise vital funds to support community conservation and livelihoods impacted by Covid-19 across Africa.
---
Shutterhub Yearbook Awards – Supporting Photographers
Hannah Norton was announced as the winner of the Genesis Imaging Award in the Shutterhub Yearbook Awards earlier in the year, with Christian Jago highlight commended. Hannah received £1,000 bursary to use with Genesis Imaging, redeemable against print and finishing services, plus a mentorship with Genesis Imaging's Mark Foxwell. The award was selected by Gabrielle Brooks from Genesis Imaging, see below for why these images resonated with her.
---
Gayle Chong Kwan: Waste Archipelago at Galleria Alberta Pane
Earlier this year we worked with Gayle Chong Kwan on her latest solo exhibition, Waste Archipelago, which showed at Alberta Pane gallery in Venice. The exhibition included photographic, paper and installation works, created from food waste and other organic elements, weave osmotic dialogues in the exhibition space – and twp HUGE banners located on the façade of Palazzo Foscari on the Grand Canal.
---
London Art Fair 2022
Ok, ok, we are cheating a bit here as this occurs in 2022 – but we have begun to work towards London Art Fair, so it seems only fitting to include this in our yearly highlights (and it's something to look forward to!).
Once again, we will be supporting Photo50 at London Art Fair; an annual exhibition of contemporary photography which provides a critical forum for examining some of the most distinctive elements of current photographic practice. The 2022 edition of the fair will be curated by Rodrigo Orrantia and will be supported by our Exhibition Printing and Installation Services.
---
Festive Opening Hours 2021-22 and Christmas Wishes from the Team at Genesis Imaging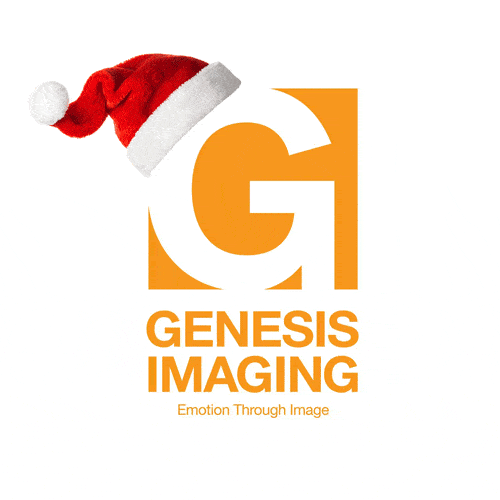 We will be taking a short break for the festive season, closing for Christmas on Friday 24th December at 2 pm and re-opening on Tuesday 4th January 2020 at 9 am.
Emails sent, files uploaded and orders placed during this time will be responded to as soon as possible on our return in January. Please note that turnaround times for enquiries submitted during this time should be calculated from the 4th of January, not the date on which they are submitted.
Wishing all of our clients, followers and friends a Merry Christmas and a happy and healthy 2022…
Thank you for all of your support in 2021.
With best wishes,
The team at Genesis Imaging
---
More from the blog
For many years, we have supported final year photography BA students at Nottingham Trent University with three bursary awards; two…
Did you know you can travel the world from Kings Cross? (and we don't mean just on the Eurostar)… Until…
The Genesis Postgraduate Bursary Award – Winner: Nicholas Holt London College of Communication, MA Photojournalism & Documentary Photography (online) Of…