We have the pleasure of regularly working with some of the creative visionaries of tomorrow; a diverse mix of student photographers, artists and designers who regularly surprise and delight us with their thought-provoking work, innovative thinking and resourceful use of our services.
(In no particular order), these are just a few of the most innovative projects that we've worked with those graduating from courses in a variety of disciplines to achieve:
Heather McCalden 'It Felt Like a Movie, But it was Just a Photograph'
"The title of this work comes from a very specific sensation: that of momentarily feeling as though your life has the visual quality and subsequent sentimentality of a motion picture. But, ontologically speaking: how is such a state of being constituted?
It Felt Like a Movie… seeks to answer this question, but from the other side: what happens when a photograph develops skin, a material body? What happens when a photograph takes on its own presence and its contents brings to mind that sensation of falling into a moving image?" – Heather McCalden
Heather McCalden's huge 3 x 2m piece (comprised of three felt printed panels, produced using our Direct to Media UV printing service) 'It Felt Like a Movie…' shows at The Royal College of Art, Battersea Campus, until the 5th July as part of 'SHOW!'; The RCA's Graduate exhibition. Learn more..
Angie Chen-Xie '
Ch?-metrics'
'Ch?-metrics', created by final year Surface Design student Angie Chen-Xie, presents a modern twist on traditional Chinese lattice panels by creating a intricate and unique interpretation motivated by structured geometrics and modern interior formalities.'Ch?-metrics' is composed from authentic Chinese green and jasmine tea leaves preserved in resin moulds, creating delicate and detailed pieces that are presented with intricately cut laser cut panels. In the piece above, Angie presents an enlarged section of one of her resin moulds as the backdrop to her panel, printed here as a Duratran print earlier this year.
Following the exhibition at Bucks New University, 'CH?-Metrics' was shown at New Designers 2015 between 24 – 27 June and  will be shown at Tent London 2015 between 24 – 27 September.
Tom Illsley 'Meridian'
Tom Illsley was awarded our third Nottingham Trent University Student bursary award for his series Meridian' and will be exhibited at Lakeside Arts Centre in 2016 with the support of NTU photography tutors, Nottingham Lakeside Arts Centre and £1000 of our production services towards his exhibition.
Meridian' is an exploration of central geographical locations in Great Britain formed of landscapes identified through the mathematical equation of centrography, divided into quarters and explored clockwise. Of his methodology, Tom comments "I record different information whilst I am acting as a flâneur in the environment, magnetised to the features of the landscape. Information such as longitude and latitude, and compass bearings is important to me and In documenting this information I not only present objective imagery but also unique data to support my work. In creating this work I am recording areas of land often overlooked or seen simply as fields and green land, but in creating imagery I am relating each center point to one another, despite the fact that they are miles apart." Read more..
Meridian was presented in a group exhibition at Cobden Chambers, Nottingham in 2015 as a part of Fifth Wall Photo Festival and was exhibited further at the 2015 Free Range shows at The Old Truman Brewery in London.
Alex Burgess 'Shift Command Three'
Camberwell College of Art UAL BA graduate Alexander Burgess' series 'Shift Command Three' focuses on the point in which the digital mapping services (from Google, Apple and Microsoft) stop documenting the sea, and instead start generating a new version of it. The top two thirds of images in the series present the photographic satellite imagery, whilst the bottom third shows the fabricated simulation of the sea'. The instantly contrasting moment at the perfectly delineated 'horizon' splits apart the photographically documented from the completely manufactured. The line both separates the two states, whilst also rendering the image as a new, skewed, landscape.
Alexander Burgess' series 'Shift Command Three' was produced for The Photographer's Gallery's acclaimed exhibition 'FreshFaced+WildEyed', using Alex's highly reflective Fujiflex prints and mounting these on slimline aluminium in a range of sizes using our aluminium mounting service.
Alex's work is showing at The Photographers Gallery in'FreshFaced+WildEyed' until 5 July 2015. Read more…
Katrina Hardy Saenz 'Story Screen'
Camberwell College of Art final year Illustration BA student Katrina Hardy Saenz's 'Story Screen' is comprised of shaped prints produced on wood using our Direct to Media UV Printing service and then hinged to form a functioning dressing screen that is based on the original Japanese Byobu's. Originally adorned in colourful illustration , the Byobu stood amongst the household as a platform for narrative and expression.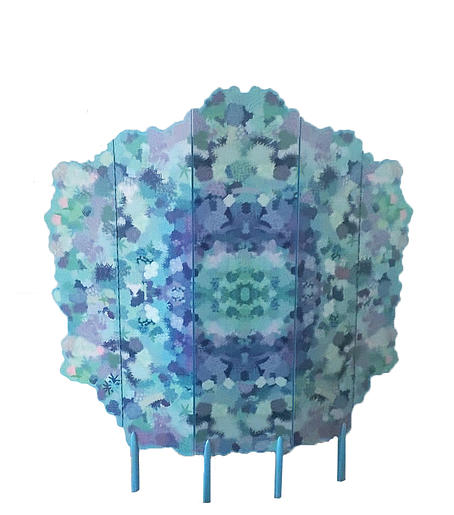 The print found on Katrina's 'Story Screen' is based on a coming of age story, a central element to her personal practice, which explores the transition from 'Innocence to Experience' . Applying context to medium, her work often combines the three dimensional object with varying textural considerations. Combining elements of functional design and illustration her current work merges interior use with ornamental value, developing attention to colour, material and print. Read more…
'Story Screen' was exhibited as part of the Camberwell College of Art final year Illustration BA show and will be exhibited at The Hoxton Arches between 16 – 21 July.